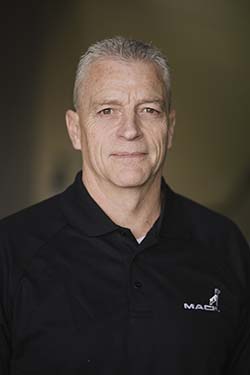 New National Sales Manager for MTD's Used Truck business
Posted: 10-Jun-2021 |
Zane Ryan has been appointed the new National Sales Manager for MTD's used trucks business. Zane was previously Regional Manager at Truckstops, the New Zealand parts and service franchise holder for Hino, Mack trucks and Volvo trucks, buses and coaches, sister company within the wider Sime Darby Motor Group.
"Zane brings a wealth of experience to the role," commented MTD General Manager, Clive Jones. "He's been in trucks and transport for over 40 years. The knowledge and networks he's built up as a diesel mechanic, truck salesman and manager of a significant truck maintenance service will be invaluable."
MTD's used truck business has been active since 1968 and is an important part of its suite of transport solutions. New National Sales Manager, Zane Ryan sees quality used stock playing a key role in supporting businesses across all segments of the market.
"The MTD brand is known for quality supply. Buyers and sellers of used trucks have confidence in us, not only to play fair and supply mechanically sound vehicles but also to provide advice and experience around the lifecycle of a wide range of truck brands," said Zane.
"MTD has the network, scale and financial stability to minimise the risk in used truck sales. Our national network of salespeople have access to a wide network of contacts across every segment of the industry from food, construction, and general transport to logging, cranes and tankers. We can take a lot of the time and hassle out of selling and buying a second-tier vehicle."
By brokering a sale on behalf of sellers, MTD offers busy transport business owners a smooth ride. Assessing and advertising the vehicle, leveraging the networks of its national sales team, and dealing with enquiries. With most buyers out there looking for a particular brand and mileage, the MTD sales team also adds value on the buy-side, offering expert advice on whether prospective purchases are fit for the application, freight type and payload required.
Zane comments: "We offer maximum certainty around the mechanical condition of older trucks, including appraisals, remediation and repairs through MTD's independent dealer and 19-branch Truckstops network. By dealing with MTD, buyers and sellers are getting access to a national market. Our team is used to offering value and we're not afraid of walking away from something that we wouldn't be happy selling."
NZ Truck & Driver Magazine
Read Now